Dominic Maroh from 1. Football Club Cologne with Johann Grander in the mine shafts of the Copper Plate mine
Cool photo shoot off the football pitch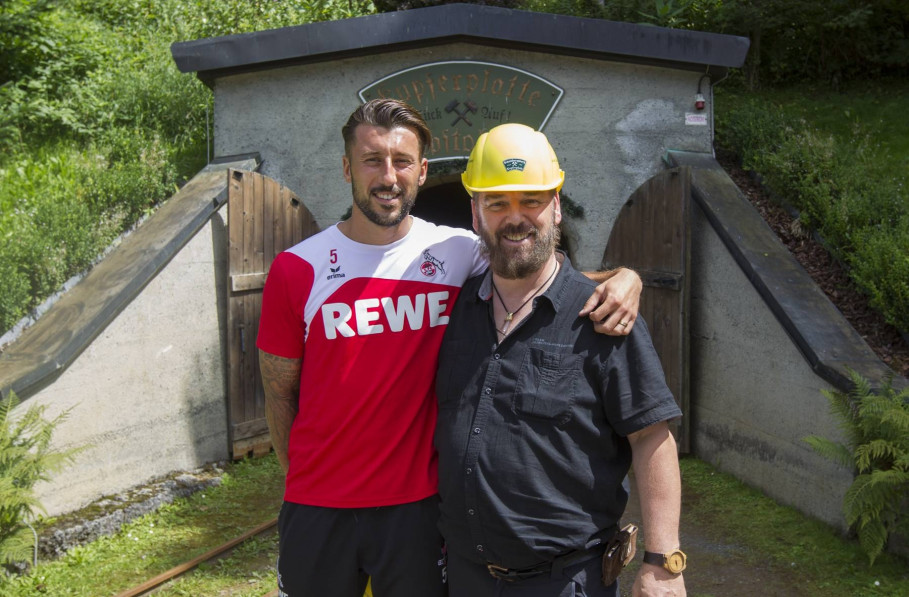 @express köln
Dominic Maroh - 1. FC Cologne with Johann Grander in the mining shafts of Copper Plate mine
From July 27th to August 3rd, 2017 the 1. FC Cologne was a guest in Kitzbuehel. The team as well as their Austrian coach Stoeger stayed at the Kempinski Hotel "Das Tirol" in Jochberg. Central defender, Dominic Maroh, took advantage of a training pause for a visit and a photo shoot with Johann Grander in the mine shafts of the Copper Plate mine...
This year, FC Cologne has been in Kitzbuehel for the four time for training sessions. The coach and team enjoy the training work in Kitzbuehel, "The atmosphere and the location are wonderful, the people are very friendly." Apart from the training, there were also two test games (against FB Bologna and LASK Linz) on their agenda.
The time off from games and training was used by the players to become familiar and enjoy the region. For example, Dominic Maroh, 1. FC Cologne's central defender, visited the Copper Plate mine in Jochberg, where the Stephanie spring originates and the water is extracted for the GRANDER® water revitalization and the original GRANDER WATER®. Maroh learned some interesting details about the mining history in Jochberg directly from Johann Grander, and he found out that the Copper Plate mine is the only intact copper mine in Europe...
We wish Dominic Maroh as well as 1. FC Cologne continued success!
Image Gallery
Back