Technology, Building services
& Supply engineering
GRANDER Water

extends maintenance intervals
GRANDER water can remain longer in the heating & cooling circuit, in machines and plants due to its better durability and thus extends the maintenance intervals.

minimizes plant load
GRANDER water revitalization reduces the susceptibility to germs, limescale deposits, rust formation, silting and sedimentation and thus also reduces the load on your plants.

increases your productivity
The use of revitalized water according to Johann Grander reduces the susceptibility of your plants to repairs and thus ensures shorter downtimes and extended production intervals.

protects your plants
GRANDER water protects your plants and technical equipment, thus extending their service life and reducing your investment requirements.

reduces your efforts
The use of GRANDER water revitalization sustainably reduces your workload, the use of auxiliary materials and additives, and your energy expenditure.
Customer experience
Arena Alicante, Spain

Arena Alicante opened its doors in November 2009. From the very beginning, the sports center has relied on several GRANDER® devices, which have clearly paid off.

ISO-Tech Plastics - maintenance-free since 2008

For more than eight years the GRANDER® water revitalization technology has been in use at the production facility in Ahaus / North Rhine-Westphalia. Before the use of GRANDER® there were always failures: the cooling units were stalled, the heat exchangers clogged, the pumps had failures due to impurities.

Energie Münchwilen AG, 9542 Münchwilen/TG

The following is a summary of the two projects: The one project "Schnitzelheizwerk Murgtal" was created in 2011 and had problems with the gluing of the plate heat exchanger after the first months of operation. After a chemical, physical and microbiological examination, the problem was found on the microbiological side!

Successful use of GRANDER water revitalization in the cooling circuit

The company ept GmbH has made a name for itself as a provider of solutions in connector technology. Products from ept GmbH go to the automotive and telecommunications industries, among others. The three letters "ept" stand for "electronic precision technology". GRANDER water revitalization has been used successfully since October 2006.

Jean Soller AG, Neukirch Egnach - family-run laying hen breeders since 1928

The breeding of laying hens is the basis for healthy, strong and productive hens. Their requirements are not to be underestimated since they have to physically perform well in order to satisfy the farmer with their laying efficiency and the egg quality.

Jenzer Meats & Delicatessen AG, Arlesheim - tradition for more than 115 years!

Jenzer Meats & Delicatessen - tradition for more than 115 years!

The butcher shop Jenzer is a family owned business with 70 employees, which is led by Christoph Jenzer of the 4th generation. For more than 115 years now the Jenzer Family has been operating the butcher shop with lots of pleasure and strength.

Rasmushof Kitzbuehel - where the "Streif" myth is experienced first hand

Located directly at the foot of the Hahnenkamm ski run, at the finish line of the "Streif", surrounded by its own 9-hole-golf course, amidst the majestic Kitzbuehel mountains, the Reisch Family has been welcoming their guests in keeping with their motto "genuine, Tyrolean, authentic" since 1974. GRANDER® water has been a part of their concept for many years. For the hostess, Signe Reisch, water is a precious component of their hotel.
Products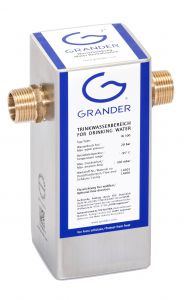 GRANDER Inline Units
GRANDER Inline Units are available for installation in the main water supply of private houses, medium-sized and large buildings as well as industrial plants.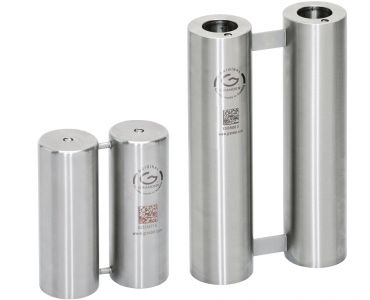 GRANDER Energy Rod Double
The GRANDER Energy Rod Double is available in two sizes for submersion in suitable locations.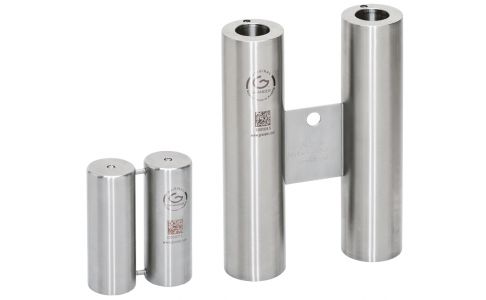 GRANDER Energy Rod Circulation Double
GRANDER Energy Rod Circulation Double are suited for pre- and post-revitalization of wells and water containers, i.e. for use in open systems.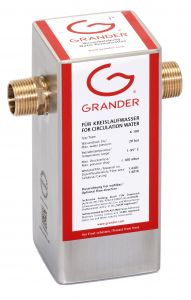 GRANDER Circulation Units
GRANDER Circulation Units are suitable for the use in heating/cooling circuits and process water systems. They are available as in-line units and double-cylinder submersion units and can be installed in homes and apartments, middle-size as well as large industrial plants.
Further application areas
We will gladly advise you