GRANDER Water

reduces detergents & cleaning agents
The special consistency of GRANDER water significantly reduces the susceptibility to germs and thus significantly reduces the need for detergents, cleaning agents and detergents with the same result.

reduces cleaning effort
The use of GRANDER water revitalization reduces lime deposits, rust formation, silting and sedimentation and thus massively reduces your cleaning effort.

reduces unpleasant odors
At the same time, revitalized water naturally reduces the unpleasant odors associated with the use of detergents, cleaning agents and cleaning products.

minimizes residues
By reducing the use of detergents and cleaning agents and making them more effective, GRANDER water revitalization reduces harmful residues in textiles and on surfaces.

improves indoor climate
The use of revitalized water according to Johann Grander thus ensures a more pleasant room and living climate overall.
Customer experience
Turbo Wash in Schweitenkirchen

The use of GRANDER® water in the various areas of the car wash - in the truck cleaning area, in the car interior washing machine and also in the self-service washing area - the amount of detergents has been reduced by about 15%, which is a further contribution to helping the environment.

Holiday House Brucker, Bavaria

Sylvia and Hannes Brucker are running "Holiday House Brucker" at Kochel am See, in Bavaria. About 8 years ago they had issues with dirty water pipes in their guest house. A plumber came and suggested installing a GRANDER® unit.

Many years of experience with GRANDER without water softening system

Greetings Josef! I found out more about GRANDER® based on a recommendation I received. Since our water softening system was due to be replaced, we decided to install GRANDER® 13 years ago and not to utilize the water softening system any more.

Optimal cleaning of bed linen with revitalized GRANDER water

Since November 2011, revitalized GRANDER water has been flowing in the Veil family's residential and commercial building in Schorndorf. The drinking water has improved since then and is drunk and used with great pleasure.
Products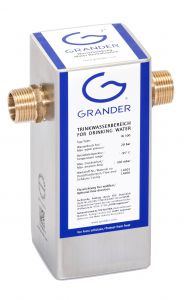 GRANDER Inline Units
GRANDER Inline Units are available for installation in the main water supply of private houses, medium-sized and large buildings as well as industrial plants.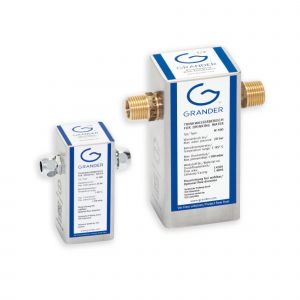 GRANDER Inline Units W38 | W50
Use the GRANDER Inline Units W38 and W50 for individual water lines.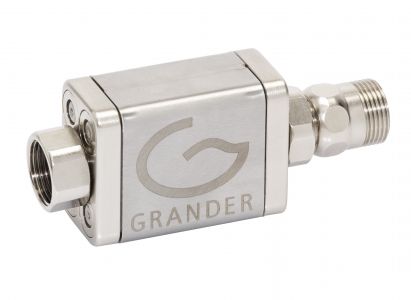 GRANDER Flexible Unit
Pocket-size device that can quickly and easily be installed in showers, mobile homes, vacation domiciles, on outside taps in the garden, etc.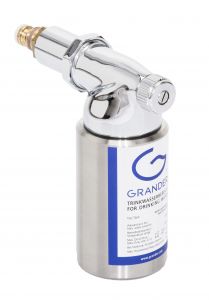 GRANDER Apartment Units
The top of the existing isolation valve can easily be replaced by the VAS valve adapter fitting (as per DIN 3512). This makes it possible to quickly install the GRANDER Apartment Units into existing supply pipes without cutting or prying open the pipe of the apartment or flat. These GRANDER Apartment Units are also available for screwable ISTA water meters.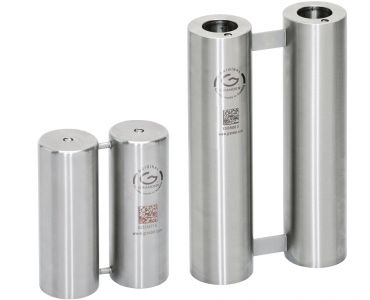 GRANDER Energy Rod Double
The GRANDER Energy Rod Double is available in two sizes for submersion in suitable locations.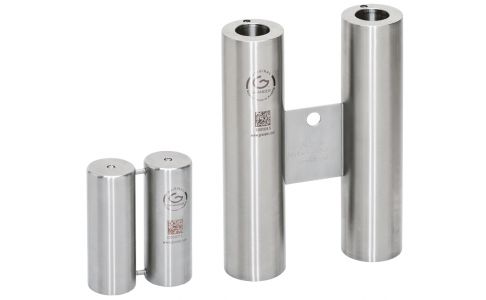 GRANDER Energy Rod Circulation Double
GRANDER Energy Rod Circulation Double are suited for pre- and post-revitalization of wells and water containers, i.e. for use in open systems.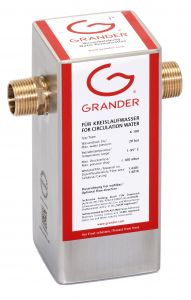 GRANDER Circulation Units
GRANDER Circulation Units are suitable for the use in heating/cooling circuits and process water systems. They are available as in-line units and double-cylinder submersion units and can be installed in homes and apartments, middle-size as well as large industrial plants.
Further application areas
We will gladly advise you