New Orientation
"You don't have to invent anything, you only have to see it."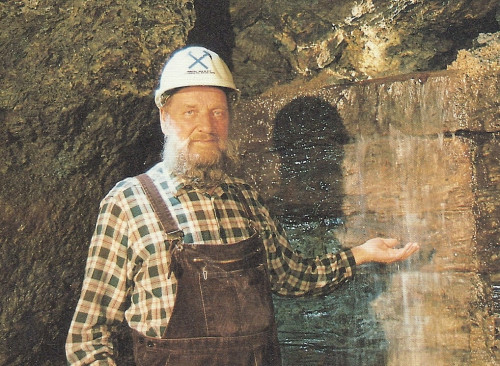 Johann Grander didn't want to fit into given structure. So, in 1978 he gave up his job and spent a lot of time on meditation and reading. He followed a path of spiritual and mental further development.
And he started to do research and carry out experiments: at the beginning with the massage roller, an idea he had from his father, and later on he developed special magnet rollers.
He did many tests with and under water. His house cat "Minka" was the one who drew his attention to the water he created. She wanted to drink only from the water, which he treated with his magnet motors. Therefore, he began to intensively concentrate on the water that fascinated him more and more, and the water that massively influenced his life and that of his family as well.
Nature was his best teacher, and the microscope was his most important work tool. He discovered that water can store information and, without direct contact, can transfer it to other water.
The basis of GRANDER Water Revitali7ation was born. He knowledge got around, more and more people became interested in water revitalisation and supplied themselves with "GRANDER Water" by Johann Grander.
The Tyrolean naturalist did further experiments. Together with his son, Hansi, he developed the first Water Revitalization unit - a unit that is connected to the water supply in the home and revitalises the home's own tap water.
The garage in front of his private house was his laboratory, place of research and production plant all in one.
Public interest grew and for 30 years now, GRANDER Water Revitalization has been making waves around the globe. Johann Grander is convinced: "You don't have to invent anything, you just have to see it."