Panorama Hotel Waldenburg
Revitalized water in the entire hotel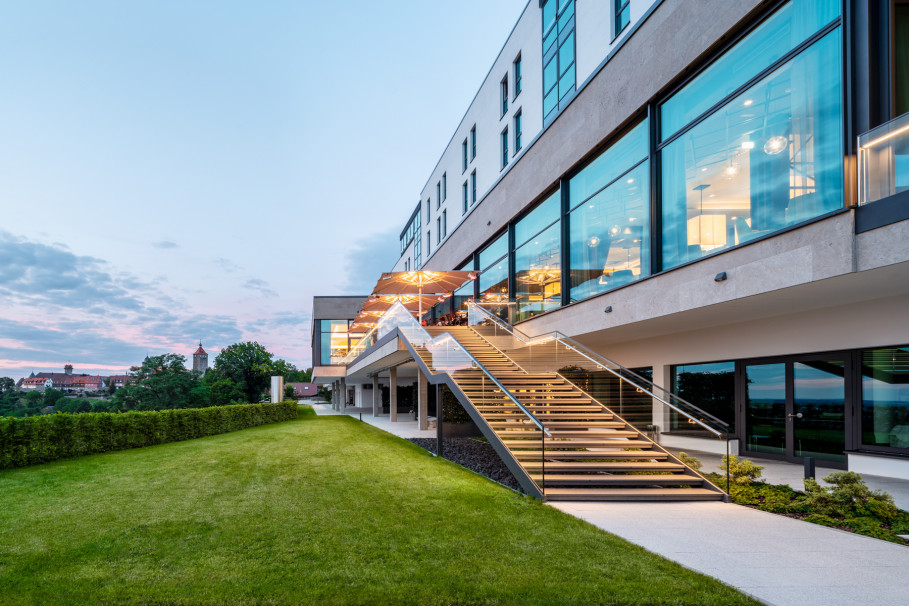 (c) Panorama Hotel Waldenburg – Mellenthin
Ever since the four-star Panorama Hotel Waldenburg in the Hohenlohe region close to Schwäbisch Hall opened its doors in September 2018, its guests have been offered GRANDER® revitalized water.
The hotel's picturesque location high up on the Hohenlohe region's 'balcony' offers a 360° panoramic view of the surroundings.
Featuring facilities like seminar rooms, a hotel restaurant, a bar, and a gym complete with two saunas, the Panorama Hotel is a popular choice for conferences as well as celebrations and relaxing holidays. The Panorama Hotel also has much to offer to its outdoorsy guests. The Würth PanoFit Parcours, the most beautiful panoramic circular path in the Hohenlohe region, starts right at the hotel's doorstep. Along the course's 3.5 kilometers, 13 fitness stops featuring high-quality sports equipment are arranged.
A high level of activity naturally makes people thirsty. Wanting to offer the best water quality to guests and staff, the Panorama Hotel Waldenburg decided to install a GRANDER® Inline Unit early on.
To guests, the revitalized water is a true added value: they frequently tell the hotel's staff how much they appreciate the glass of GRANDER® revitalized water served with their coffee, for instance. 'The water here is extremely invigorating and refreshing,' they all agree.
Back