Wimpissinger Butcher Shop - Regional Specialties in Meats and Sausages
Astonishing discovery made with GRANDER® water revitalisation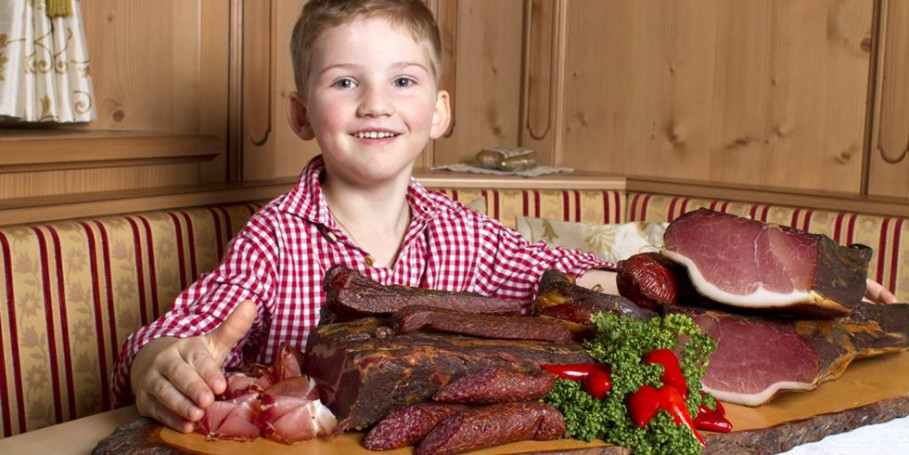 The butcher shop owned by Andreas and Tilly Wimpissinger in Angath, Austria has existed for 50 years now. Together with the second business in Reith i. Alpbachtal they serve around 400 customers daily.
The traditional business was completely renovated and expanded in 2007. A new abbatoir, new delivery facility, disassembly, production, cooling room, a new climate and freezing room and new curing area were made.
Of course, modern hygienic technology was installed and also the element water was given great consideration, as it plays a huge role in the entire production process. After having good experiences with GRANDER® water revitalisation in their private home, consequently GRANDER® was installed in the butcher shop for the optimisation of the water quality.
An astonishing discovery was made with GRANDER® water revitalisation in the private house.
"In 1999 we moved into our newly built home. We had a waterfall put in next to the oven in our living room. The water in this fountain always turned foul after only 3 weeks. By accident we heard about GRANDER® and we talked to an adviser from our neighbouring municipality.
We were sceptical at the beginning and we formed our first impressions by drinking GRANDER® revitalised water. In a blind tasting, we were actually able to determine a fresher taste. According to the motto "it can't hurt to try it" we installed a GRANDER® water revitalisation device in our home. The astonishing effect: even after two years the water in our living room fountain is crystal clear and not at all foul-smelling."
Positive experiences with GRANDER® in the butcher shop:
Since a lot of water is required in the butcher shop, the Wimpissinger family wants the best-possible water for the sausage and ham products. After the positive experiences in their private home, the decision was easy and they had a GRANDER® water revitalisation device installed in their butcher shop as well. In 2007 the business was completely renovated and expanded, and the next bigger GRANDER® water revitalisation device was, of course, installed too.
The boss is very satisfied:
"Our processed meat products as cold cuts stay fresher much longer. This is confirmed by the customers time and time again. The sausage, cured ham and ham products all have a special taste experience. Even the cleaning is much easier with GRANDER® water. In laundering the work clothes we were able to cut back on washing detergent by 1/3."
In the microbiology as well as the Crasheis examinations every sample was spot on. The tests were done in accredited, external laboratories. Mr. Wimpissinger comments,
"Also in the microbiology we have a good, basic hygiene, which I attribute to revitalised, top-quality GRANDER® water."
Back