New Water Well for Cambodia
Together with GRANDER®, GRANDER® consultants put up money to dig a new well for drinking water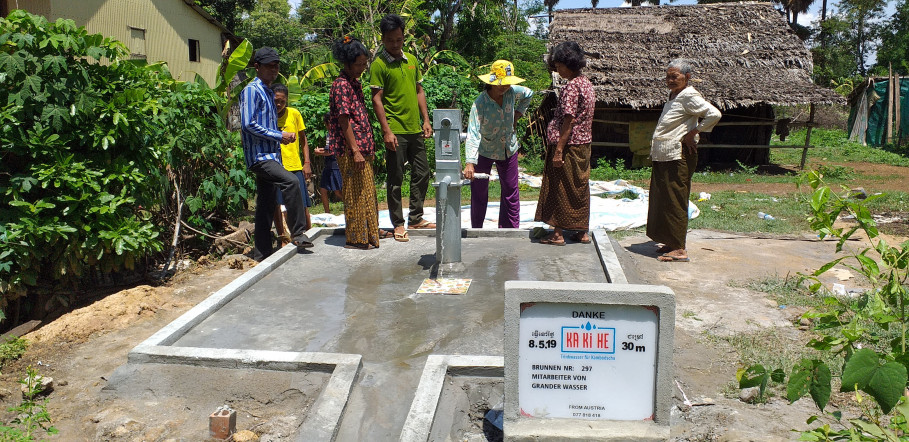 A few months ago, GRANDER® consultants were so impressed by a presentation by Fritz Kieninger, founder of the KAKIHE organization, that they decided to fund a new well in Cambodia out of their own pockets. GRANDER® also joined the effort, thanks to which about 3,000 people in Phnom Toch now have access to clean, potable water. The well was opened to the public on 8 May 2019.
The KAKIHE organization was founded to provide access to clean drinking water for the people in Cambodia. GRANDER® has been supporting the organizations projects for many years.
The "Five Bridges Run" is an initiative KAKIHE regularly organizes to collect funds for digging new wells. And it is no coincidence that participants run a distance of ten kilometers: many children in Cambodia must walk a similar distance on a daily basis to fetch clean drinking water.
The 0219 "Five Bridges Run" will take place at the ALFA event center in Steyrermühl (Upper Austria) on 7 September. The starting signal will sound at 10 a.m.
The full entry fee of EUR 25 per person is donated to KAKIHE´s "Wells for Cambodia" project. All costs of the run are borne by sponsors.
Runners can register until 1 September 2019.
Click here for further informations on KAKIHE and the "Five Bridges Run".
Back