GRANDER Circulation Units
for heating circuits and cooling circuits
GRANDER Circulation Units are suitable for the use in heating/cooling circuits and process water systems. They are available as in-line units and double-cylinder submersion units and can be installed in homes and apartments, middle-size as well as large industrial plants.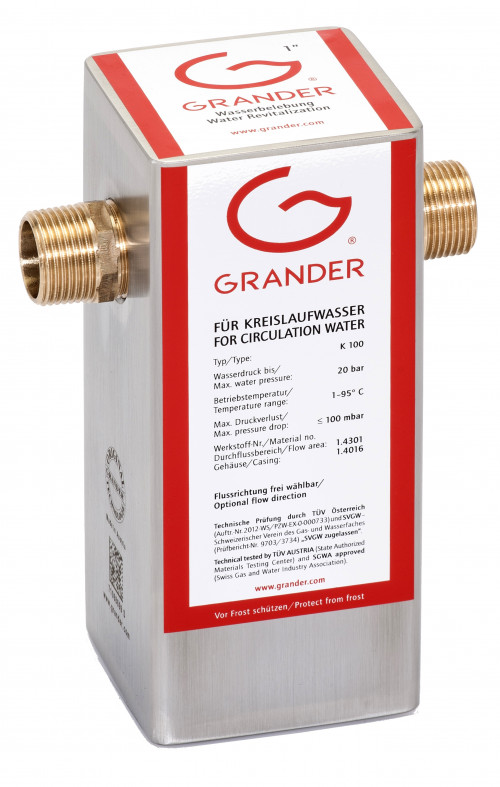 Dimensions:
1/2", 3/4", 1", 5/4", 6/4", 2", 2 1/2", 3", 4"
Units available:
GRANDER Circulation Units are available in flow units and in double cylinder models.
Heating Water Revitalization:
The GRANDER effect is clearly visible here: dirty and often foul-smelling heating water becomes crystal clear in a short time.
Cooling Water Revitalization (Industry):
Through the implementation of GRANDER water revitalization, stabilized process water by consistent optimization of chemical use can be achieved.
Choosing the right unit for heating area:
For the correct unit selection, the individual situation is important. Individual counseling is done by trained GRANDER consultant. GRANDER Circulation Units should not be used in drinking water!
GRANDER Circulation Units work with natural energy, without electricity or chemicals and are completely service-and maintenance-free.
Area of use
Heating systems, cooling systems and process water
Guarantee / Warranty

2 year warranty on unit installation done by an authorized installation company
5 year guarantee on material and workmanship
Return policy

3 month return policy at the full purchase price (if the product is not damaged - scratched - chipped, etc.)
Additional Info
Material:

The parts of GRANDER® Circulation Units that come into contact with drinking water are made exclusively of steel types according to table 1 of the German standardization body for the gas and water industry DVGW's worksheet GW 541. GRANDER® Circulation Units comply with the sanitary requirements stipulated in the evaluation criteria for metallic materials in contact with drinking water of the German Environment Agency and thus also the requirements stipulated in art. 17 section 2 item 1 of the German Drinking Water Ordinance.

Installation Position:

The installation should be done, particularly in high temperature systems, in return flow after a possible dirt separator and to guarantee a problem-free system ventilation in a vertical pipe.

Thread connection:

with red brass nipples – for prevention of contact corrosion
Back