GRANDER® Energy Rod Double
for wells, containers, swimming pools and ponds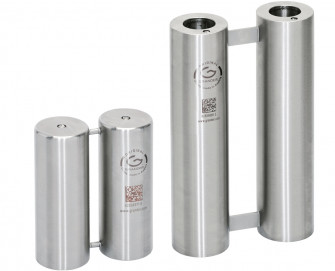 The GRANDER® Energy Rod Double is available in two sizes for submersion in suitable locations.
Height: 285 mm (BRDZ) 150 mm (DZKL)
Width: 180 mm (BRDZ) 120 mm (DZKL)
Depth: 70 mm (BRDZ) 55 mm (DZKL)
GRANDER® Energy Rods are used for pre/post-revitalization in combination with a GRANDER® Inline Unit.
GRANDER® Energy Rods have proven to be outstanding when used in standing water. This holds true particularly for water tanks piled up (i.e. on ships) or for water in storage.
In drinking wells and containers, the use of a large double cylinder (for a maximum of two households) is recommended in order to maintain the revitalization in treated water.
GRANDER® Energy Rods work with natural energy, without electricity or chemical additives, and are serivce and maintenance free.
Additional Info
Area of use:

standing water, fountains, containers, swimming pools, ponds

Material:

The GRANDER® Energy Rod Double and Energy Rod Single are made of V4A stainless steel.

Guarantee / Warranty:

3 month return policy for a full refund of purchase price (excluding WFLX/W38)
2 year warranty on unit installation done by an authorized installation company

Return policy:

3 month return policy for a full refund of purchase price (excluding WFLX/W38)
Back