Arena Alicante, Spain
A revitalized sports complex in Spain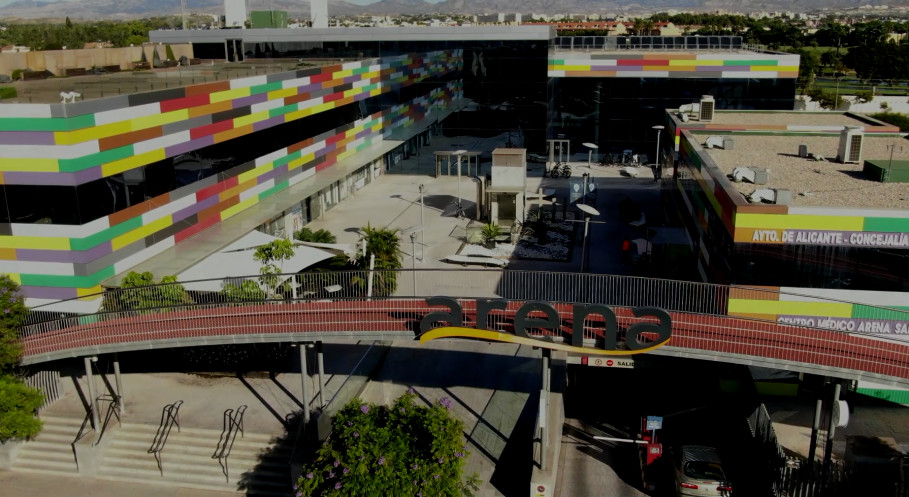 Arena Alicante opened its doors in November 2009. From the very beginning, the sports center has relied on several GRANDER® devices, which have clearly paid off.
Arena Alicante, which spans over 26,000 square meters, is a paradise for every sports enthusiast. The indoor sporting area covers 6,800 square meters, and a further 19,000 square meters offer plenty of space for outdoor activities.
The indoor area is home to a fitness center, which boasts state-of-the-art equipment on more than 1,000 square meters. It also hosts eight rooms designed for various group activities. There is a tatami room for training martial arts, a boxing room, the Arena cross studio, a squash court, an indoor cycling room, a walking room, and two multifunctional rooms where various sports like yoga or Pilates can be practiced.
The outdoor area boasts an 800-meter athletics track, several tennis courts, several soccer grounds, an area for paddle tennis, and a central court surrounded by bleachers that can seat up to 1,000 spectators.
Naturally, a sports complex would not be complete without water sports facilities. This is why Arena is equipped with two swimming pools, a semi-Olympic pool, and a pool especially designed for a variety of water activities. It is particularly this area where guests really notice the outstanding quality of the water and the fact that less chlorine is used at Arena. Time and again, they report that the water feels soft to their skin and eyes and does not have the typical chlorine smell.
And what is the thing to do after playing sports? That's right: relaxing. And for that purpose, Arena Alicante also features a spa area equipped with facilities for Scottish showers and foot baths, a Finnish sauna, a sanarium, a steam bath, thermal loungers, a Roman bath, and even a hair salon. The hairdresser too is excited about the perks of GRANDER, which he notices when washing people's hair: "GRANDER water has a palpable impact on hair treatments because it leaves the hair softer, the texture of the hair stays much looser, and it makes the hair shine. Also, the shampoo lathers better; you get much more foam with a smaller amount of shampoo than with regular water."
More than 60 people work at Arena Alicante, 50 of which are trainers specialized in the sports taught here.
There are courses for both adults and kids, in sports disciplines ranging from soccer to tennis through to triathlon.
From the very first day, it was the mission of Arena Alicante's operators to always offer top-quality water, not only in the water sports and spa areas but on the whole premises. This is why they decided to install a GRANDER water revitalization system already when building the arena.
Also when it comes to heating, the operators deeply care about sustainability. The whole premises are heated using solar energy. And here too, a GRANDER device was installed to keep the water in the heating and cooling circuits clean and clear.
Find out more about the GRANDER effects at Arena Alicante in the following video:
Back