Iodine & Sulfur: a True Power Couple
GRANDER® revitalizes iodine-sulfur bath spa in Bad Wiessee, Germany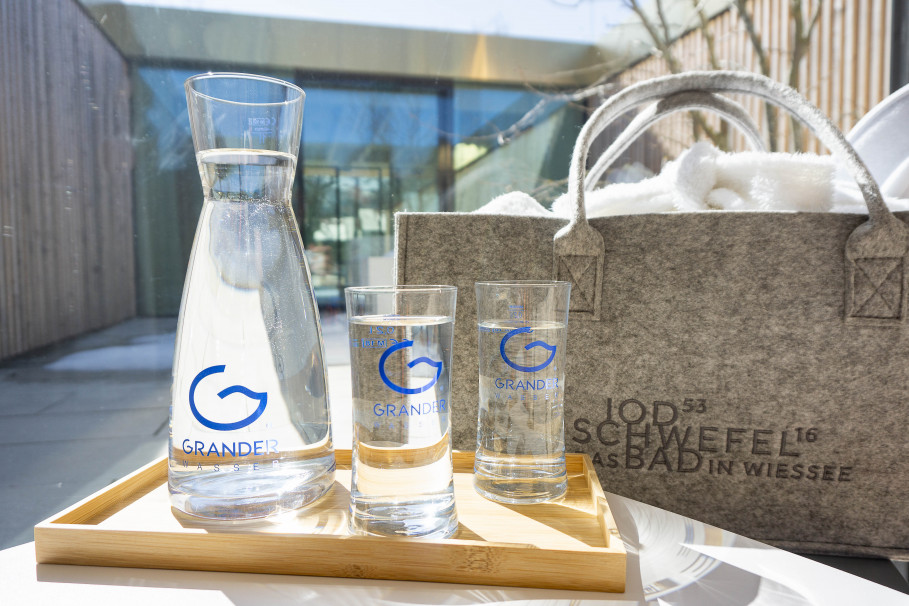 Iodine-sulfur bath
The iodine-sulfur bath spa in Bad Wiessee promotes the manifold healing powers of healthy water.
There are many thermal baths in the world, but nothing compares to Bad Wiessee's 'Adrianus' and 'Queen Wilhelmina' springs. The unique effect produced by their water is due to its remarkably high iodine and sulfur contents. In fact, no other spring in Germany has a greater iodine and sulfur concentration. The new iodine-sulfur bath spa expresses this uniqueness also in terms of its architecture, inviting visitors to experience it firsthand.
Just like sulfur, iodine is a natural remedy with beneficial effects on our organs' functions and our metabolism. For more than 100 years, people in need of rest have flocked to Bad Wiessee on Tegernsee Lake to benefit from the healing properties of Germany's most concentrated iodine-sulfur fountains. The various treatments are recommended for a great variety of symptoms. What is more, bathing in the thermal water is a sublimely relaxing experience that nourishes the whole organism.
In addition to the iodine-sulfur thermal water, which has sprung from the 'Queen Wilhelmina' and 'Adrianus' fountains for more than 300,000 years and is used for baths, spray baths, inhalations, and eye baths, the spa now also serves very special water with an outstanding taste to its patrons: a GRANDER® Inline Unit was installed to revitalize the drinking water throughout the entire premises.
GRANDER® water revitalization improves the water's structure. Its self-cleaning properties and resilience are improved, making for a high stability of the water. GRANDER® water revitalization is based on the principle of information transfer. Due to the unadulterated molecular structure of the effective medium used in GRANDER® Inline Units, natural impulses are transferred to the water passing through the unit even though it does not directly touch the medium. This stabilizes tap water in a natural way, significantly improving its biological properties.
GRANDER® revitalized water tastes better, stays fresh for a longer time, enhances our well-being, and has beneficial effects on vital physiological and cognitive functions. Every patron is served a glass of refreshing, unadulterated, natural, and energetic GRANDER® water when they take a bath – a clear additional benefit in harmony with the iodine-sulfur bath spa's holistic approach to health and well-being.
Back