GRANDER® – the Original Revitalized Water Celebrates Its 40th Anniversary
A worthy anniversary celebration with guests hailing from the worlds of politics, business, science, and the GRANDER® community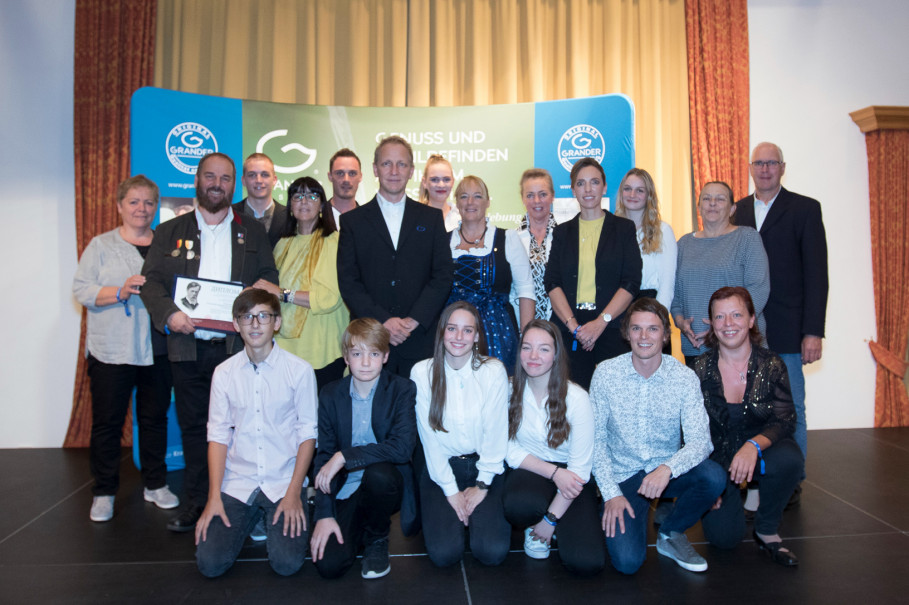 Roland Mühlanger
In 2019, GRANDER® celebrates a company anniversary. Johann Grander junior and his team take a proud look back and also look forward to new opportunities in the future. This is the perfect occasion to say 'thank you' to partners, customers, consultants, sales partners, employees, friends, and everybody who accompanied the company throughout its history.
When Johann Grander senior (1930–1912) founded the GRANDER® family enterprise 40 years ago, the world was profoundly different from how it is today. Yet his views, for instance regarding the environment, are as relevant as ever, bearing proof to the fact that he was a true visionary. 'There is no greater teacher than nature,' he once said. By listening closely to nature and being curious and inventive and through his fascination for the element of water, he made a discovery that has improved the daily life of hundreds of thousands of users around the globe ever since while simultaneously protecting nature: GRANDER® water revitalization.
This way, Johann Grander established a new understanding of water, which more than one million people adhere to today: a healthful life begins with revitalized water.
The values he held to then are another thing that has not changed in the company since the discovery of water revitalization:
To this day, GRANDER® is about family, solidarity, and sustainability as these are values that depend on and influence each other.
'As a family enterprise, we consider sustainability and environmental protection to be key in order to preserve this beautiful planet also for future generations. Our products, which run entirely without electricity or chemicals and require no maintenance, are as sustainable as our mindset: for the environment of tomorrow,' says Johann Grander junior.
In the course of the anniversary festivities at the Rasmushof hotel in Kitzbühel, Johann Grander expressed his heartfelt thanks to all guests, 'Thanks to your friendship and support, we can look forward to a revitalizing future!' He also said, 'Not once were we bored in the past 40 years, and we have experienced many exciting moments. For me, the past 40 years have been like a train ride: we constantly had to switch tracks, and we also had to reduce the speed from time to time to continue our journey into the right direction.'
One of the many guests attending the event was Beate Palfrader, a member of Tyrol's provincial government. In her speech, she praised GRANDER® for its transition from a company that started out in a garage to a business that operates globally. 'Companies like this one are very important for our country: they help build our international reputation and image, secure jobs, and foster innovation.' Ms Palfrader also conveyed the good wishes of Tyrol's governor, who said that he looked forward to officially honoring GRANDER® at a ceremony for traditional Tyrolean companies celebrating a company anniversary at a banquet in October.
Johann Grander junior received many other official presents, honors, and awards, such as the hoof of a Lipizzaner stallion as a token of gratitude and appreciation by the Spanish Riding School and three medals from Russia presented by Prof. Yuri Rakhmanin, formerly the Russian delegate on the topic of water at the WHO and health supervisor of the Mir space station.
'For me, the greatest honor is the positive feedback from customers and partners on all continents of the world. To me, this is proof that we have been on the right track for 40 years,' says Johann Grander junior.
HISTORY:
· 2019: 40th company anniversary celebrated with an international water symposium
Passing of Ingeborg Grander
· 2017: Foundation of GRANDER Italia
· 2016: Foundation of GRANDER Export
· 2014: Foundation of GRANDER Wasserbelebung: sales company for Austria, Germany
· 2012: Passing of Johann Grander senior
· 2009: Honorary diploma for services and achievements awarded by the Tyrol Economic Chamber
· 2003: Expansion of company facilities in Jochberg
· 2003: 2,000-year-old water gifted by Russian ecological fund
· 2001: Austrian Cross of Honor for Science and Art
· 2000: Silver medal of honor from the Russian Academy of Natural Sciences
· 1998: Expansion of company facilities in Jochberg
· 1997: Expansion of company facilities in Jochberg
· 1996: GRANDER® registered as a trademark
· 1993: First business contacts in China
· 1992: Building of the company facilities in Jochberg
· 1989: Purchase of a former copper mine
· 1986: Discovery of water revitalization by Johann Grander
· 1979: Foundation of the company by Johann Grander
Back